Most companies would agree they'd like to have loyal, productive employees who are on top of their game and doing their best work.
Easier said than done.
Talent activation is a key part of making that happen, and it's something employers need to be thinking about from their first contact with an employee onward.
Talent activation "centers on an employer deliberately designing experiences throughout the employee lifecycle—from recruitment to retention—to unleash employees' pre-existing strengths, energize performance and drive growth," according to the 2018 Annual Survey conducted and released by DeVry University's Career Advisory Board. "An activated workforce is highly engaged, productive and loyal, qualities that can contribute to enhanced collaboration and encourage development as a competitive advantage."
The end product? Each employee's best, most unique work well-fitted to overall company goals and in furtherance of their career and their life.
Established by DeVry University in 2010, the Career Advisory Board "is comprised of leading representatives from business and academia who deliver valuable insights on today's most important career trends and provide actionable advice for job seekers." Its members include executives from DeVry, Google, Apple, GE, and LinkedIn, as well as nationally recognized career experts.
"We bring in industry leaders for thought leadership to help us understand what education should look like in the next three or four years," says Joe Mozden, DeVryWORKS vice president. "These are leaders in the tech market space trying to help us literally see the future of education in a very real, actionable way."
Get Activated
Here are three of the many ways companies can activate employees' talent and promote its effectiveness to company leadership from the 2018 Annual Career Advisory Board survey:
Measure your level of talent activation: Before engaging in a new talent activation strategy, assign a metric that will track its success. For example, if you intend to roll out customized onboarding content, can you measure time to productivity for those hires who will experience it compared to those who did not?
Sell the benefits of talent activation to leaders: Fully activated talent naturally leads to improved business outcomes. Crunch your data to illustrate why your organization is better off today than it was before employee experience was a priority, and take advantage of internal forums to demonstrate what's working and what you have in mind next.
Leverage technology to continuously re-evaluate your experiences: Experiences are only as good as the degree to which they reflect changing market, organizational, and employee requirements. Use survey software frequently to assess the effectiveness of your experience at different phases, and keep your eyes on feedback coming in through your portal or other sources.
That's where talent activation comes into play as one of multiple options in a hardworking chief learning officer's (CLO) toolkit. Helping clients and partners get that done on a daily basis, DeVryWORKS is DeVry's B-to-B arm and works with corporate clients to help them understand their training and development needs. Then, they create solutions to help acquire and retain strong talent, plan for succession, and close the skills gap. "DeVryWORKS partners closely with us, not just as an educational consultant, but as a business consultant. They work to understand how we connect talent strategy to business goals and provide consultative support," says Gamestop CLO Matthew Hirst. Read more about the partnership between Gamestop and DeVryWORKS in "All About Talent Partnering With Gamestop."
"That's what we do at DeVryWORKS, help [our clients with the process of] finding people with needed skills and the same when it comes to onboarding them effectively," says John Aquilino, senior account manager at DeVryWORKS. "Then we help them get better at that specific job or better prepared for the next job they might want, i.e. skills gap training."
Note to job seekers: Do your research! 79 percent of survey respondents reported that candidates are asked a core question in their recruitment experience: What is this organization about and why would you want to work here?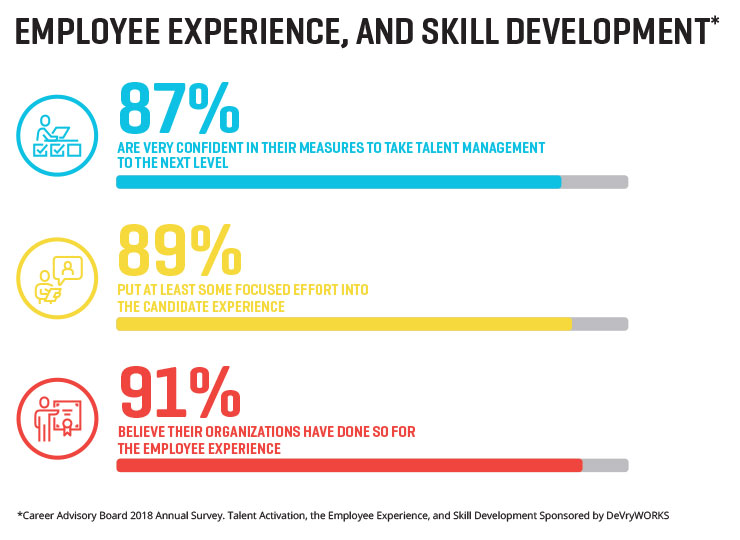 Closing Skills Gaps
After all that positivity, there's this: "Seventy-seven percent of survey respondents agree that: In my organization as a whole, I am concerned about employee skills gaps." But then, "Despite this clear focus, respondents still observe significant skills gaps at all levels."
The survey identifies some of the main areas in which those skills gaps exist: "Not surprisingly, given prior Career Advisory Board research on technology and 'soft' skills, the greatest skills gaps are observed in the areas of technology/digital fluency (cited by 62 percent of respondents), communication (56 percent), business acumen (48 percent), diversity and cultural awareness (46 percent), and customer service (42 percent)."
Skills gaps can affect employees at all levels, but according to the survey, lower-level employees are more vulnerable. Seventy-one percent of participants said their individual contributors or frontline employees don't have necessary skills, while 63 percent shared that they see skills gaps in their supervisor population, and 45 percent are concerned about skills gaps at the executive level.
If talent activation and an effective employee experience are as high a priority as these results suggest, why aren't skills gaps being closed more quickly? More than half of respondents cited time and budget as barriers, followed by an insufficient talent pipeline (45 percent) and lack of executive sponsorship (41 percent).
Learn more about DeVryWORKS Skills-Gap Training here.